Hall of Fame
Inductee #01 - Tony Rolo
HONORS
Global Champion (x 2)
Tag Team Champion
Reknowned as PRIME's posterboy, Tony Rolo was with the company since day one, leaving his mark on PRIME in so many ways during his career here. Hailing from Chicago, Rolo is a law unto himself, a charismatic hero figure to the fans and a protective family man. "The Specialists" road to glory hasn't always been an easy one however, many will remember the first edition of ReVolution when Rolo was thrown off of the stage and through a technicians table by ah old foe in the form of Tyler Davidson. In a typical Tony Rolo response, he came back all guns blazing on the following show, interupting the Trail 2 Glory Final by assaulting Angello Malenko and Rik Reno with a steel chair during their Global Title Lumberjack Match. This act alone personified Tony Rolo and this was the first of many such actions in the coming months. Rolo soon found himself in contention for PRIMEs top honor when he defeated Rik Reno for a number one contendorship spot in a match where Reno actually dragged Rolo's young son into the ring. The He would then go on to face Lance Jackson for the Global Title at Fatal Flaw, but after a gruelling match Jackson eventually sealed the win with a Last Dance from the top rope.
Tony Rolo finally reached the summit of PRIME at the King Of Kings PPV when he defeated Lance Jackson in a blood splattered Hell In A Cell Match to become the Global Champion. This was at the end of a hot run by Rolo, defeating Rock Startling, who was then unbeaten and on a nine match winning streak, on his way to the gold. He held onto the belt for the best part of a month, before losing it in a ReVolution showdown with the Jewel In The Crown 2003 Winner Ian English.
Inbetween Rolo has dragged his best friend Joey Troy back into the squared circle for a reformation of Crudely Civilised plus made himself a thorn in the side of Toshiaki Motoki and Hin See, trying his damndest to undo their best laid plans since Sebastian Starr walked away from the "battle" so to speak. He capped this all off on the last event of 2003 by destroying the ReVolution set LIVE on air.
Tony Rolo is indeed a legend in PRIME and a cornerstone of this promotion.
Inductee #02 - Rock Startling

HONORS
Global Champion
Intense Champion
Longest Undefeated Streak - 10 Wins
Rock Startling made his first appearance on Revolution II and was a focal point of the PRIME wrestling product until his departure. Calling himself "Tha 1 and Only", Startling proved his self entitled nickname to be somewhat true as he went on to become the first ever Intense champion in PRIME overcoming seven other men in the Intense Invitational. Startling also was the creator of arguably the strongest faction in PRIME history known as T.R.U.E. During the groups first incarnation, the trio of Rock Startling, Jacob Cross and Michael Cade made quick work of all who stood before them remaining undefeated as a whole until the group broke up and Startling forced Cross to leave the promotion after winning a Loser Leaves Town Match between the pair. In T.R.U.E.s second coming, the group had less success with Startling soon disbanding the likes of The First and Aaron Frost as little more than a month.
It was during October at the aptly named Onslaught PPV where Startling truly became king of the hill by winning the Global Championship in the State Penn Match. Startling also had one continuing hand on the Intense Title as well by becoming the Division Head and then handing his duties over to his wife Rave. Famous for his highly impressive win/loss record, Startling suffered defeat just three times in PRIME while hauling in nineteen victories. In truth, his last match with the company proved to be one of the most shocking when an "out of sorts" Startling was sensationally pinned by Zyfloi resulting in him losing the Global Title. Later that night, Startling left the Fleet Center and disappeared into the night... only he knows if he will ever return to the squared circle.
Love him or hate him, Rock Startling will always give you everything you expect and more every time. He deserves his place in the PRIME hall of fame and will always be remembered as possibly the companies most dominant force.
Inductee #03 - Ian English
HONORS
Global Champion
5-Star Champion(Known as the 5-Star Tsar)
Jewel in the Crown 2003
Dual Halo Winner 2004
Ian English arrived in PRIME in the fall season of 2003, debuting at the Free Fall PPV as the honourary 5-Star Champion. Soon enough the devious limey started picking up victories, carrying on the run of form he brought across from his $oldout Wrestling days, which soon led him to become the legitimate 5-Star Champion. English made this title his own, re-branding himself as the "5-Star Tsar" and carrying the belt for a record amount of time. One of the most memorable moments in English's career came at King Of Kings 2003 in October as he ran through three opponents in one night, including Rock Startling and the then up-and-coming Steve Starr, finally making the latter lose consciousness in the Limey Lock. By winning the Jewel In The Crown tournament English received an automatic Global Title shot that he would take full advantage of on ReVolution 18.
During this incredible title reign, English cheated his way into the record books by winning the Global Title from Tony Rolo only to lose it six days later in the State Pen match at Onslaught in Japan, in the most dubious of fashions. With Rock Startling ending his Globle/5-Star double champion glory, English continued to defend his title using every trick in the book. Even women weren't safe from the glory hungry former IAWF'er as Syn found out when English powerbombed her from the top of a steel cage and subsequently ending her PRIME career.
English finally came unstuck at Point Of Impact in January 2004 as his 5-Star title crown was taken by his nemesis Joey Troy, bringing an end to the limey's 158 day title run. The former 5-Star Tsar didn't stay down for long however, surviving 29 other superstars in the legendary Duel Halo match at the Culture Shock PPV. It was a slightly bitter/sweet night however, since prior to the main event English was unable to defeat Ignatius Lisieux and claim the Intense Title to add to his list of accomplishments. Having won that match, English had nothing much left to conquer and began to ease out of active competetion until effectively retiring mid-2004.
Arguably PRIME's greatest ever superstar (during that time period), the limey constantly amazed the fans with his underhanded ability to win. His memorable tenure also included a spell at the 5-Star Division leader where he used Mike Wade as his apprentice, plus becoming a 10% shareholder in PRIME as his "wish" for winning at Culture Shock. Ian English's obsession with eBay resulted in his squandering most of his earnings and losing his share in PRIME after leaving the papers behind in an Irish theme pub during a Barroom Brawl match that he was not actually a part of. His final appearance in PRIME came on ReVolution two weeks before King Of Kings 2004 during the "2 Hour Man Hunt" as for a considerable time he held Global Title contention, leading a pack of PRIME superstars through a visiting fairground before finally being pinned by Shadow. Perhaps one day the most devious limey ever to cross the seas will return, until then his cheating, tea spitting and muppet bashing days in PRIME are over.
Inductee #04 - Ignatius Lisieux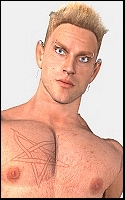 HONORS
Global Champion
Intense Champion
Tag Team Champion
Global Title Curse Destroyer
2004 Wrestler of the Year
Bursting onto the PRIME scene in November 2003 at ReVolution 19 with a singles victory over Terry Rain, Ignatius Lisieux's meteoric rise to prominence was the first of its kind with the company. Winning the vacant Intense Title in a battle royal containing Black Angel, Kincade, Nik VanCore, Triumph Frost, Terry Rain and Tony Zatarok during only his third match with the company, the French-Canadian quickly became the most valuable rookie on the entire roster.
By match number seven, Lisieux had turned heel and aligned himself with the dastardly element of the company's hierarchy, dubbed the "Asian Invasion", and shocked the world by defeating Lance Jackson, Tony Rolo and then-champion Zyfloi to capture the biggest prize of the them all: the PRIME Global (Universal) Championship at ReVolution 24.
Now a double-champion, "Eternal Sunrise" set his sights on an unparalleled three concurrent titles as he paired with stable-member and close friend Adam to battle Crudely Civilized, Fortune & Glory and The Anarchist Syndicate for the vacant Tag-Team Titles. This, match number eight, would witness Iggy's first defeat in his new home, as Tony Rolo pinned him to bring home the gold for his team.
The finale of Lisieux's first run with PRIME began with him breaking the "Global Curse" by retaining his title against Joey Troy at ReVolution 29, and he would later go on to defeat Ian English at Culture Shock 2004 to retain the Intense Title before being stripped of the belt due to his inability to focus completely on the division, after exactly 100 days as champion. Ignatius also battled to a sixth-place finish in the inaugural Dual Halo match that same night; beat Adam in the final of the Trail-2-Glory Tournament at End Game, but ended in ignominy at Colossus I with another defeat to Tony Rolo in the main event, losing the Global Title in the process.
After a three-month hiatus following the company's flagship event, the French-Canadian returned at ReVolution 44, capturing gold on his first night back by winning a battle royal for the Tag-Team Championships along with First Blood. This was an unlikely union, between an increasingly-erratic Lisieux and the devilish Daniel Pierce, which was no more just four weeks later as Lisieux beat his temporary partner to gain full control of the titles. One week later, though, at the final show of 2004, Ignatius' world came crashing down as the Dark Age took it upon themselves to make him the angel on top of their sadistic Christmas tree. Beating him for almost the whole show, before setting fire to him in the most sadistic act ever witnessed on PRIME programming, Vampir Nosferatu and his minions, most notably Ozric Mortimer, put Lisieux out of action for almost an entire year.
Returning for what would be his final run in the company, and not quite the competitor he had been before, Lisieux immediately gained revenge on Mortimer in a last-man standing contest at the 2005 Great American Nightmare. He then attained another sixth-place finish in the 2006 Dual Halo, lasting longer than anyone else, and embarked on entertaining feuds with Hoyt Williams, Killean Sirrajin and, most-famously, Karina Wolfenden - which led to a "Hall of Fame" Championship win at Ultra Violence, a main event at ReVolution 100 and a defeat to the "Negasonic Lupine" in the co-main event/match of the year at Colossus III, respectively.
Thanks to Wolfenden's victory, and the agreed stipulation that Iggy would retire and let the "new generation" prosper if he lost, on August 13th 2006 in Tampa Bay, the final curtain fell on an outstanding career, the French-Canadian finishing with an impressive overall record of 26-9-0.
Inductee #05 - Joey Troy
HONORS
5-Star Champion
Tag Team Champion
Along with Brandon Youngblood, Joey Troy probably could claim to be the best wrestler in PRIME to never win the "big one" although it wasn't as if he was regularly given the chance. Beloved by the fans and a hugely entertaining half of Crudely Civilized (with Tony Rolo), "The Enigma" was one of the original pillars of the company and his feud with Ian English over the latter part of 2003 and into 2004 is widely-recognised as one of the greatest of all time.
Entering PRIME on ReVolution 14, Troy didn't take long to be accepted into the hearts of PRIMEates everywhere with his razor-sharp wit and hilarious antics. Known for his entertaining high-risk style, Troy embarked upon an impressive early streak and instantly thrust himself into the 5 Star Title picture. Numerous ReVolution main events and huge, regular victories over the likes of Adam, Black Angel, Boda, Hoyt Williams, Ignatius Lisieux and Killean Sirrajin showed his in-ring ability. But it was outside of the squared-circle where Troy really did his thing - one major standout moment of his early career came at ReVolution 20, where Troy and Rolo famously destroyed the original ReVolution set at the end of 2003, leaving PRIME's hierarchy to completely rebuild the stage area for the start of the new year.
His relentless pursuit of Ian English and his title eventually paid-off at Point of Impact 2004, after a loss and a draw in two prior meetings for the gold, and he became the 5 Star Champion. The reign lasted two months, before Mike Wade defeated Troy at the inaugural Culture Shock pay-per-view, before "The Enigma" recovered to a notable fifth-place finish in the first-ever Dual Halo match, with Ian English accounting for the elimination of his arch enemy. In between times, Troy and Rolo had managed to win the Tag-Team Champions, making him a rare double-title holder, and the two men had continued to take the fight to the Asian Invasion, leading the rebellion of frustrated PRIME superstars against Toshiaki Motoki, Hin See and their stooges.
Through the middle of 2004, Troy remained in the main event picture, narrowly losing his one and only ever Global Title shot to Ignatius Lisieux on ReVolution 29, but continually defending his tag-team titles until July, where they were finally prised from him by old-foe Black Angel and new upstart Joshua Taro Freedom. In the second part of the year, "The Enigma" began to take flight on his own once more, reaching the final of the 2004 Jewel in the Crown Tournament at King of Kings, where he faced Hoyt Williams and Munson, with the "Mountain Madman" eventually winning a thrilling triple-threat match in decidedly underhand fashion. This was apparently the final straw for "The Enigma", and late 2004 was the last that PRIME saw of Joey Troy as a regular competitor, before one brief return at ReVolution 70 to team with Killean Sirrajin in 2005.
Perhaps unfairly remembered as a "nearly man" of PRIME, those who saw Troy at his best hold him up to any that came after him. He finished in PRIME with a record of 16-14-1.
Inductee #06 - Black Angel
Photo not available
HONORS
First Universal Champion
Last Global Champion
Tag Team Champion
Mysterious from the beginning until the end, Black Angel slunk onto the PRIME horizon at King of Kings 2003 and defeated Mark Adkins in the opening contest of the show. Suffering something of a miniature losing-streak for a month after his impressive debut, the high-flying superstar reignited his career with a controversial victory over Joey Troy on ReVolution 18, following a big assist from Ian English. Angel then thrust himself into the Intense Title division, in a feud with The First, exciting the fans with his unique counter-striking style and alternative outlook on life.
However, despite constantly impressive performances, including a fantastic third-place finish in the inaugural Dual Halo match at Culture Shock 2004, Angel regularly came up short when it really mattered. Losing the chance to win the Intense Title in a battle royal at ReVolution 21, then again in a ladder match at Point of Impact, getting beaten by Adam in the semi-finals of the Global Title Trail-2-Glory Tournament and generally playing the role of plucky underdog to a tee. His reluctant alliance with Ignatius Lisieux and the Asian Invasion didn't reap him the rewards it did the French-Canadian and any real success came when he decided to go it alone.
At ReVolution 37, with most of the main event players of his early career in PRIME now gone, Angel's star really began to explode as he defeated Joey Troy to become number one contender to the Global Championship. Just a week later, he finally tasted gold, as his new tandem with Joshua Taro Freedom landed yet another victory over Troy, who was one-half of Crudely Civilized, and took the Tag-Team Titles. Fast-forward another week and then came the third victory over Troy in three weeks, as Angel successfully defended his right to be the main challenger to the Global Title.
This fantastic hot streak was quickly followed by his defining moment as Black Angel went to King of Kings 2004 to challenge Tony Rolo and walked out of Nashville, Tennessee as the NEW PRIME Global Champion, the last-ever Global Champion as it came to pass. As the belt became the "Universal Title", Munson emerged as the number one contender, thanks to his win in the 2004 Jewel in the Crown Tournament, but Black Angel retained his championship in a brutal match at the Great American Nightmare.
Around this time, Angel became embroiled in a battle against the Dark Age, led by Vampir Nosferatu, and struggled to balance this with his Universal Title commitments. One more successful defence came, against First Blood on ReVolution 50, but Black Angel finally found everything too much at Culture Shock 2005. Boda, an ally throughout the battles with the stable, sold his soul to the devil and joined forces with Nosferatu in order to guarantee himself victory and the Universal Championship in the triple-threat match that also included Killean Sirrajin. Betrayed, beaten and broken, Angel's night went from bad-to-worse as he was taken-out on his way to the ring for the Dual Halo contest, thus being eliminated before he could even begin.
It was a desperately disappointing end to a fantastic career, which saw Angel leave with a surprisingly-even record of 20-19-0, but a hugely impressive 6-2 record in pay-per-view matches.
Inductee #07 - Killean Sirrajin
HONORS
Universal Champion (x 2)
Intense Champion (x 2)
5-Star Champion
Alias Champion
First Ever Grand Slam Title Winner
Choose Your Own Destiny Tournament Winner
WRITE-UP NOT AVAILABLE
Inductee #08 - Hoyt Williams
HONORS
Universal Champion
5-Star Champion
God's Champion
WRITE-UP NOT AVAILABLE
Inductee #09 - Karina Wolfenden

HONORS
Universal Champion
Alias/Pulse Champion
Tag Team Champion
2005 Dual Halo Winner
PRIME Wrestler of the Year 2005
Most Hair Colours Sported By A PRIME Superstar... just, ever.
Part of the locker room revolution that saw PRIME take the final step to Primetime Central dominance, Karina Wolfenden set PRIME ablaze in 2004 and 2005, wowing crowds with what would become known as 'Killyouintheface Style' as she built her reputation as PRIME's first dominant female, while bringing home PTC gold to the coalition's dominant fed.
Exploding onto the scene in November of 2004, the K-Wolf wasted little time in cutting a swathe through the PRIME roster. Aligning with her fellow RPW alumna Tessa Windsor, the duo conquered the tag division in an 8 team tournament, adding the PRIME straps to their PTC Tag Team Championships.
Karina's path to singles glory began at Culture Shock 2005 where, after having earlier defeated The H.I.T. in a brutal encounter, she emerged victorious from the Dual Halo, ending Emilio Rage's legendary feat of endurance to seal the victory. With 9 straight wins under her belt, one shy of Rock Startling's record, Wolfenden cashed in the golden ticket she'd won via the Dual Halo for a title shot against Boda, defeating him for the Universal Championship at ReVolution 58 to tie Rock's record.
Her reign atop PRIME would only last a matter of weeks, as 'The Supreme Machine' Killean Sirrajin defeated her for his first Universal Title at the UltraViolence PPV.
Throughout the summer and fall of 2005, after being put on forced leave due to the mounting injuries her lifestyle inflicted upon her, a returning Karina clashed with her on-off beau, Angelo Deville, facing him in the sub-main event of Colossus II, then went to war with Aimz, duelling with the mischievous Red Raver throughout the rest of the year.
Despite never again being able to reach the heights of PRIME Universal Champion, the K-Wolf continued to be one of it's most recognised and marketable stars throughout her tenure, being named 2005's Wrestler of the Year, capturing the PTC Universal Championship as well as the PRIME Alias Championship (which she renamed the Pulse Championship), reaching the semi-finals on the 2005 Jewel in the Crown and scoring top 3 finishes in the 2006 and 2007 Dual Halos.
After suffering a loss of form that saw her one-time record number of total victories have more and more losses chalked up against them, stars more committed to the wrestling business such as Killean, Nova and Tchu overshadowing her, as well as seeing her reputation as a wrestler more known for her backstage relationships than title reigns grow, Karina was forced to leave PRIME in 2007 after being defeated in a Loser Leaves PRIME match by Sun Tzu at UltraViolence, where two years previous her only Universal Title reign ended.
Since her departure from PRIME, Wolfenden has returned to the Snowboarding exhibition circuit as well as launching the K2 sportswear range.
Inductee #10 - Tchu
HONORS
Universal Champion (x 2)
Tag Team Champion
Jewel in the Crown 2005
Dual Halo Winner 2007
PRIME Wrestler of the Year 2006
Tchu exploded onto the PRIME scene in September of 2005, debuting on ReVolution 75 with a victory over Smitty T. Duluth in the opening round of the '05 Jewel in the Crown Tournament. At the King of Kings PPV in October, 'The Inhuman Being' defeated Karina Wolfenden and, later, Aimz to capture the JitC. Two months later, at December's Great American Nightmare event, Tchu defeated Hoyt Williams to win the Universal Championship.
Three months into his PRIME career, Tchu had put together an astonishing 9-0 record. In early January, at ReVolution 85, just three weeks after winning the Universal title, the seemingly unstoppable PRIME newcomer was set to defend his belt against the lovable loser, Clyde Walkins. The match would have given Tchu his record-tying tenth victory without a loss, but that history was never made. In perhaps the biggest upset of PRIME's existence, Clyde Walkins defeated Tchu, unceremoniously ending his title reign and march towards history.
The loss triggered a rage in Tchu's mind and set-up a rebellious period in his career where he deemed himself "The Anit-PRIME", feeling that the federation was hell-bent on holding him down. When Tyler Nelson took over PRIME, Tchu immediately clashed heads with the new authority figure, who was furious at The Inhuman Being for losing his fed's top title to a "bumbling mid-carder". Tchu vowed to keep the title around Clyde's waist, becoming a 'protector' of sorts for the champ, in order to piss Nelson off. In retaliation, Nelson named Tchu's long-time rival, Killean Sirrajin, his hand-picked corporate champ.
When Killean won the title from Clyde at UltraViolence in 2006, it set in motion a collision course for Colossus III in Tampa, FL. On a summer night, under a falling rain, Tchu finally faced off one-on-one (for the first time ever) against Killean Sirrajin, capturing his second Universal Title and finally regaining his spot atop the PRIME mountain
In the fall of 2006, Tchu found himself in a three way feud with Vangelus Olsig and, newly befriended, Nova. The three met in a triple threat match at GAN '06, where Tchu was able to successfully defend his Unviersal title. In the following weeks, the super-stable FU would change the landscape of PRIME. Nova would betray Tchu and defeat him for the Universal title, and the group would assault and sideline The Inhuman Being in February of 2007. At Culture Shock, Tchu returned to PRIME and won the Dual Halo, defeating 50 other superstars, but would fall short in recapturing the Universal Title at the UltraViolence PPV.
A feud with Titan St. James heading into CIV, followed by a brief surprise match against Sonny Silver at KoK 2007, saw Tchu's PRIME career begin to wind down. And at Culture Shock 2008, Tchu officially retired after dropping the PTC Unified title to his close friend, Lindsay Troy.
Perhaps the most dominant superstar in PRIME history, Tchu captured many honors during his two-year run with the company, suffering only a handful of losses during his career. Despite his often cold exterior, The Inhuman Being earned a warm place in the hearts of fans the world over and became an icon of PRIME.
Inductee #11 - Nova

HONORS
Universal Champion
Intense Champion
5-Star Champion (x 2)
Longest Universal Title Reign
Most Sucessful Universal Title Defenses
Truly one of PRIME's "home-grown heroes," Nova joined the company in the fall of 2004 along with Sean Page and Brad Daddy, two colleagues from another circuit who floundered immediately and were let go only weeks after being signed. Though he would later be identified with the "Class of 2005" which included Karina Wolfenden, Brandon Youngblood, and Angelo Deville and which was largely credited with pushing PRIME to the forefront of the pro wrestling industry, Nova was a total outsider when he signed his first company contract at the age of 25, with no knowledge of the wider wrestling world or company lineages which seemed to trail and connect other superstars. Regardless, it took only a few short months for him to turn heads as a true "Rising Star" within PRIME as well as PTC. When early angles collapsed due to apathy from co-workers, Nova relied on his ring talents alone to move the chains of his career forward, and by spring of 2005 he jointly held PRIME's 5-Star Championship (two reigns) and PTC's Extreme Title, the latter coming after a shocking victory on PRIME Pay-Per-View television over one of Global Championship Wrestling's biggest starlets, Shadow.
The run-up to Colossus II and the hype surrounding the 5-Star Championship match with Brandon Youngblood cemented Nova as a main event caliber athlete, and though he lost the match, Nova's stock with PRIME had risen to the point that he was inserted into the main event at Tropical Turmoil for the #1 Contendership to the Universal Title then held by Hoyt Williams. That match proved to be a turning point in the Rising Star's career, as a neck injured sustained at Youngblood's hands put Nova on the shelf for the better part of a year and sidelined his goal of obtaining the company's top strap.
The following spring, Nova returned with a clear vision to recapture his momentum from the previous summer. He became PTC's first two-time Extreme Champion, and amidst the summer's most captivating and comical feud with the Illustrious Face-Eater, managed to end Vangelus Olsig's year-plus Intense Title by pinning him even as Facey remained glued to him by the hand. That fall, Nova was given his first Universal Title shot in a three-way match with his company rival Tchu and Olsig at the Great American Nightmare. Tchu prevailed, setting the stage for an epic rematch at King of Kings 2006. There was no stopping Nova the second go-round, and in Columbus, Ohio, he raised the Universal Title overhead. The "Rising Star" was gone. The Risen Star had arrived.
More important than the belt was who Nova shared the victory celebration with that night. Standing alongside long-time comrade Angelo Deville, Jason Snow, and Rich "The Renegade" Rollins, Nova lambasted the fans for what he perceived to be superficiality and a lack of support, especially following his first loss to Tchu. "Fuck You," as the group identified itself, went on to terrorize PRIME in a way the company had never experienced before, rigging matches, running roughshod over the roster, and openly defying mandates from then-company manager Chet Worth. Along the way, Nova compiled a record number of title defenses as well as the longest Universal Championship run in PRIME history (both later broken by Jason Snow) before eventually dropping the title to his close friend the "Queen of the Ring" Lindsay Troy. Nova led FU even as the stable's lineup changed (with Sonny Silver and Tony Gamble replacing Snow and Rollins), but at Overkill 2007, following a dominating performance in which Nova pinned three of the four opposing team members (including Tchu, Troy, and Killean Sirrajin), the group turned on the Risen Star and left him laying cold in the middle of the ring.
Nova never recaptured the spotlight he enjoyed during his commanding reign as Universal Champion and leader of FU. He co-main evented Colossus IV in a much-hyped contest with Danny Ferguson, and returned the following summer to a great reaction from fans as part of CP Cantrell's CABINET~! alongside his friend Sonny Silver, Cantrell, and former Ferguson bodyguard Dametreyus Fuquiawytas. He defeated smear reporter Torres Wilson at Colossus V, and has not been seen in a PRIME ring since.
Inductee #12 - Vangelus Olsig

HONORS
Intense Champion
Alias Champion
Tag Team Champion
Longest PRIME title reign (w/ Intense Title)
Vangelus Olsig. The name has provoked both terror and intrigue within the wrestling industry since it's unveiling in the summer of 2004. Entering PRIME under the guise of "Dani Furher", Olsig immediately established himself as a reckoning force, alongside Emilio Rage, Ozric Mortimer, and Peter Vetra - the original members of the Alias League. Later down the road, Olsig joined forces with the likes of Vampir Nosferatu and his acclaimed Dark Age.
After breaking away from Nosferatu's sect, Olsig set his sights on a much higher prize. After receiving his biggest break thus far, Olsig squared off with Universal Champion, Killiean Sirrajin, in a televised championship bout that made PRIME ReVolution history, going down as one of the show's greatest moments. Though he fell short of the prize, Olsig went on to win the belt that would become synonymous with his name - The Intense Championship. For well over a year, Olsig endured several of the most grueling, inhuman encounters in an effort to defend this convenient prize, making him the longest reigning champion in PRIME history.
A pivotal moment occurred in Olsig's career when, during the annual PTC Global Turnbuckle Tournament, he cleanly eliminated PTC legend, Doctor Curiosity - the first to ever pin the Doctor's shoulders to the mat in PTC competition. This victory served to catapult Olsig high up the ranks of the professional wrestling hierarchy. After finally relinquishing the Intense Championship, Olsig joined forces with ACW superstar, Machiavelli St. Romani. Together, the pair marched into Colossus and claimed the Tag Team Championships. On this same night, Olsig, alongside Nova and Karina Wolfenden, was listed among the newest class of inductees into into the PRIME Hall of Fame.
After parting ways with St. Romani, Olsig took a trip back to his roots, winning the Alias championship. Shortly after, he departed from PRIME, never expecting to return again.
But in 2010, he defied those expectations and so many more when he returned to PRIME for a one-night-only appearance, competing in the heralded Dual Halo. One night turned into several months, however, as Olsig, the ultimate underdog, did the unthinkable, eliminating long time rival, Brandon Youngblood to become the 2010 Dual Halo winner - the biggest moment in his career. It was through this landmark achievement that Olsig received the opportunity to obtain the ultimate prize - the Universal Championship. At Ultraviolence 2010, Olsig mustered up all of the strength left in his waning body to square off with newcomer, Castor V. Strife, for that covenant belt. At the sound of the concluding bell, he found his hand raised in victory, placing a stamp on his eventful career.
Having had one of the longest reigns as member of the PRIME roster, Olsig has seen the company during it's most acclaimed as well as it's most disconcerting days. He's squared off with the greatest this place has ever had to offer and, with a tenacity and endurance that has become his signature, has, thus, cemented himself as one of those greats.
Inductee #13 - Lindsay Troy
HONORS
Universal Champion (x2)
Tag Team Champion (x2)
Intense Champion (x1)
2007 Tag Team of the Year
2007 Face of the Year
2007 Feud of the Year
2008 Feud of the Year
Colossus Curse Breaker. Has never lost at Colossus
2007 Roulette Winner
WRITE-UP NOT AVAILABLE
Inductee #14 - Sonny Silver
HONORS
Universal Champion
Intense Champion
Heel of the Year 2007
Mr. Silver, Chairman of PRIME.
Mr. Silver, Sports Entertainment Liaison to PRIME.
Sonny Silver, Rogue Asshole.
Or simply a fuckhead.
Call him whatever it is you want, but there's no denying in the three years he was with PRIME, Sonny Silver raised hell, caused migraines, had audiences up in arms, and just about any kind of debauchery or atrocity you could name, he did it just for kicks.
Entering PRIME alongside then-partner-in-crime, Kenjiro ITO, what started out as nothing more than a parody of some rich wrestling promoter prick from Stamford, Connecticut, turned into what some speculated as one of the most outrageous personalities that had ever set foot in PRIME. Threatening to fire people, rip up their checks, "bury" them on national television despite not really having any kind of authority with the company, this didn't stop the Seattle native from bringing in a unique blend of Sports Entertainment and Strong Style that made him one of the more dangerous, yet entertaining wrestlers to have ever come along.
He waged war with countless opponents ranging from Shawn Stewart, Hessian, The Illustrious Face-Eater, fellow PRIME Hall of Famers in Karina Wolfenden, Tchu and Killean Sirrajin. Most importantly, a legendary blood feud with another Hall of Famer and former tag team partner, "Queen of the Ring" Lindsay Troy which saw him finally win the big one, taking the title from Lindsay Troy in a hotly-contested ladder match. While he would only hold the gold for a few months, what was most well-known about Silver was his cutthroat approach to the business, not to mention his very questionable sanity.
Inductee #15 - Chandler Tsonda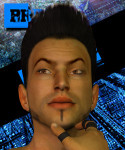 HONORS
Universal Champion
5 Star Champion (w/ The A-List)
Tag Team Champion (w/ The A-List)
2007 Jewel in the Crown
WRITE-UP NOT AVAILABLE
Inductee #16 - Jason Snow
HONORS
Universal Champion
5 Star Champion (x2)
Longest reigning Universal Champion
2008 Jewel in the Crown
WRITE-UP NOT AVAILABLE
Inductee #17 - Team V.I.A.G.R.A.
High Flyer
Tony Davis


Mary-Lynn Mayweather (Image Not Available)



HONORS
3 time PRIME Tag Team Champions



WRITE-UP NOT AVAILABLE






Inductee #18 - Tony Gamble
Image Not Available
HONORS
5 Star Champion (x2)
Intense Champion
Alias Champion
2006 Jewel in the Crown
WRITE-UP NOT AVAILABLE
Inductee #19 - Tyler Rayne
HONORS
5 Star Champion (longest reigning)
2008 Dual Halo Winner
2008 Breakout Star of the Year (tie, with Cozen)
2008 Wrestler of the Year (tie, with Chandler Tsonda)
2009 Face of the Year
WRITE-UP NOT AVAILABLE
Inductee #20 - Hessian
HONORS
Universal Champion (x2)
Intense Champion
WRITE-UP NOT AVAILABLE
Inductee #21 - Brandon Youngblood
Image Not Available
HONORS
5 Star Champion (x3)
2009 Jewel in the Crown
WRITE-UP NOT AVAILABLE
STAFF
In 2008,
Taun Pham, Hin See, Motoki,
and the lovable cat
Bojangles
were inducted into the Hall of Fame for their crucial role in helping to shape PRIME's existence as the founders and leading staff member's of PRIME's earliest days.
In 2009,
Nick Stuart and Richard Parker
were inducted into the Hall of Fame for their roles as commentators since the company opened its doors in 2003.